Interior

Showers
Autoglass
Doors
Commercial
Need a beautiful shower?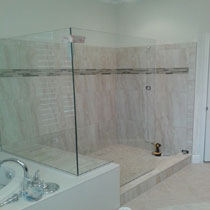 Hello world my name is Steve and I am the owner of Alpha Glass Company. I've been a glazier for 20 years. What does that mean? Do I put icing on doughnuts? No. I install windows. I am skilled in home window replacements, mirrors, showers, store front doors and windows, table tops, auto glass, screen repair, viny windows, awning windows, casement windows and I custom cut glass for heavy equipment and old
school cars as well as install it.
Need a beautiful office?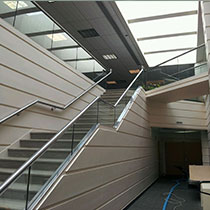 I love glass and sometimes dibble and dabble in stained glass. If you are interested in my services I am skilled in my profession and have a passion for what I do. I am insured and I provide a mobile service to people living in Marion County and the surrounding north central Florida area. I come to you. My phone number is 352-445-1036 if you need a quote or if you simply have a question about glass feel free to call anytime. I even do home window maintenance so if you are having trouble with your window not going up or down call me, its probably the balance rods which go bad. If its auto glass I do chip repairs on windshields that can be fixed and can replace any window in your car or truck.
Thank you
Steve Filion
2015-06-28 18:58:36
Read more...
---
2015-02-14 19:51:23
Some people ask me what the best glass cleaner is and this what I think. It depends on what kind of glass.
Read more...
---
2015-02-14 19:40:25
Recently doing stained glass and loved it. My daughter is 5 months old and I made a working music box for her with stained glass,
Read more...
---
2015-02-14 19:37:04
Read more...
---
Residential Commercial Auto Showers Mirrors Heavy Equipment Tabletops
352-445-1036 We service Marion County and the surrounding area.